Racer Pigeon– Pigeons are the oldest domesticated birds. The history of pigeons doesn't tell us the exact breed and kind of pigeons used for racing centuries ago. Breeding pigeons began centuries ago, we can just have a clue on the old paintings by their masters. We all know and agree that Rock Doves are the ancestors of all domesticated birds, the pigeon of today.
The pigeon racing sports achieved a great deal of popularity in Belgium in the mid of 19th century. The pigeon fanciers of Belgium were so much engaged in the hobby that they spent a lot of research and work on new breeding and invented pigeons specially cultivated for fast flight and long endurance called Voyageurs.
Pigeon Race
Pigeon racing is a sport in which specially trained racing pigeons are released from a specific distance which return to their homes in a specific time. While rate of travel and time is measured for each pigeon participating in the event. The time taken and distance are recorded and the fastest bird is declared as Winner.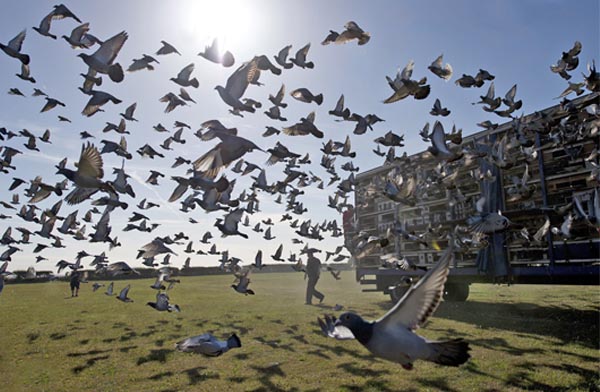 Races very in distance for approximately 100 – 1000 km. In USA flights of more than 2000 km are also recorded. Since races can be won or lost by seconds, now in the modern time many new measuring devices and instruments are developed. For Instance one of the most common method is the use of RFID tags to record the arrival time of the pigeon.
In past, paint was used to identify birds for owners. Later 1/8-inch brass leg bands were developed by Belgium. These bands were sent to racers in America to use. Since that time, to compete in a race, the birds must wear a permanent unique numbered ring or band that is placed on its leg at about 5 days of age.
Racer Pigeon Timing Method
Best method for timing racing pigeons is the Electronic Timing System. This method has the feature of automatically recording the time at his arrival. Each pigeon has fitted leg band with a tiny RFID chip in it.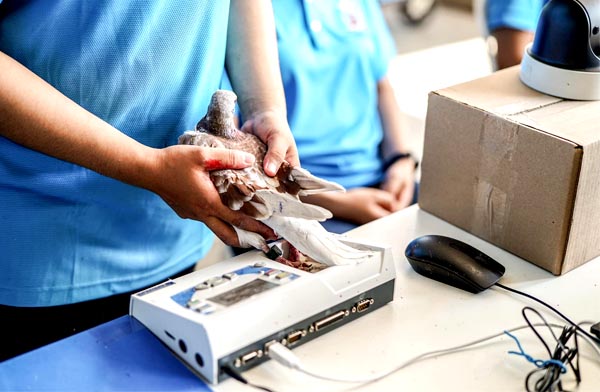 The Electronic scanning records pigeon arrival in the loft. The pad is placed at the entry point of the loft and as the pigeons crossed it the electronic band is scanned. The Clock is attached to the antennas. In this way the serial number of the transponder ring is recorded along with the time of arrival. As a result correct and accurate results are recorded.
Homer Pigeon Racing
The most common racer pigeon breed is the Racing Homer. In addition the Importance of homing pigeons in the centuries before electronic communications such as telephone and telegraph are seldom recognized. Homer Racer Pigeons play an import role in World War I and World War II as well. Moreover Racing homers were bred from a number of other breeds which were selected for their endurance, speed and homing abilities. On average a good homer pigeon can fly 600 miles in one day.
Most Expensive Racer Pigeon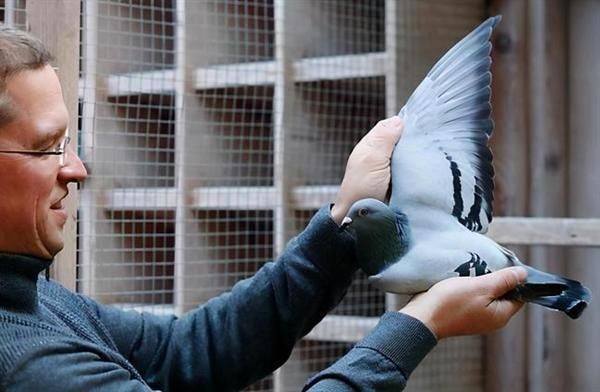 The most expensive birds in the history are the Pigeons from Belgium. New Kim, a two year old racing female pigeon is also from Belgium. New Kim was auctioned for a record of $1.8 million. Former most expensive pigeon in the world, Armando male pigeon was sold to a Chinese buyer for $1.48m few years back in 2019. The bidders for both of the most expensive pigeons were from China.
One Loft Pigeon Race
One loft pigeon races are a type of race in which pigeons compete against each other. These pigeons are trained under the same loft, same diet and environment. Moreover it is best for testing the birds rather than the trainers. Its the fairest method of proving which bloodline or breeder is the best.
Pigeons are recorded by electronic timing systems scanning the birds as they enter the home loft as winners decided by as little as 100 of a second. All birds are released from a same specific location to return to same common loft. The fastest bird to complete the journey from point A to B is the winner.
One loft pigeon racing is now becoming popular all around the world. With this kind of race, fanciers are able to compare their bloodlines on an equal basis against the many other pigeons.
Racing Pigeon Training
Racing pigeon are kept in a specially designed cages known as their lofts. About the age of 4 weeks until the end of their last racing day career, loft is the Pigeon's home where it returns. Racing pigeon chicks are moved in a separate section or loft when they are usually 22 to 25 days old. As a result they learn, to located the water, explore the area and start eating.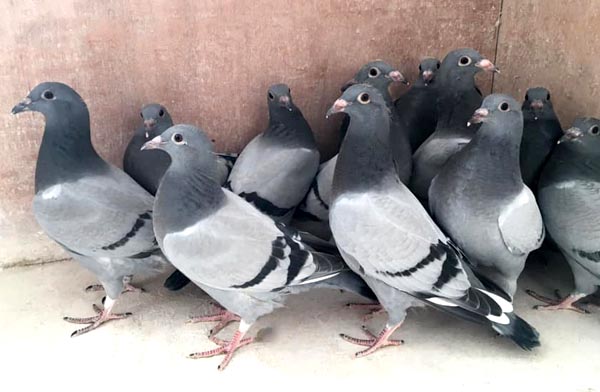 At age of 6 to 7 weeks, the birds will begin taking off, flying in very small circles above the loft. This is naturally way of recognizing the surrounding and observing the area around the loft. When your birds have molted their 3rd flight feather, they are finally ready to take down the road. Pick clear bright days with less clouds. Train your youngsters in the morning. Gradually keep increasing the distance from the loft. This is like a format of real race. Thus the practice of loft flying and tossing continues throughout a pigeon's career.
Racer Pigeon Secrets
Again Training methods vary from trainer to trainer. Most fanciers used to guide and share their race training tips while others are reluctant to share their secret of training. For instance, One of the most popular method is the widowhood. The method uses the birds desire to reproduce as motivation to give bird urgency to return on race day.
Furthermore Widowhood method allows racer to raise a baby in their nest box. Once the baby grows and able to eat and drink, fanciers remove the hen and often close the nest box. As a result the only time next they see their mates or enter back their nest is upon returning from a race or training day.
Pigeon Racing USA
Pigeon Racing in USA was introduced in United States about 1875, however the regular racing did not begin until the end of 1878. According to the American Racing Pigeon Union, there are 15,000 registered lofts under two accrediting groups. Similarly Shady Hills, Florida is home to a pigeon racing club and hosts annual racing tournaments and events.
Pigeon Racing Club List UK
The first regular pigeon races held in Great Britain were in 1881. The British Royal family first became involved in 1186 when King Leopold of Belgium gifted them breeding stock. However the tradition continues to this day, with a bird of Queen Elizabeth even winning a race back in 1990.
The National Flying Club is a British pigeon racing club, and open to anyone in England and Wales. In addition there are other six organizations.
Irish Homing Union (IHU)
North of England Homing Union (NEHU)
North West Homing Union (NWHU)
Royal Pigeon Racing Association (RPRA)
Scottish Homing Union (SHU)
Welsh Homing Union (WPHU)